Mechanical Stamping Briquette Machine(Screw Conveyor)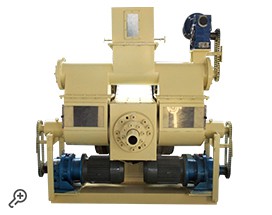 This machine can make both biomass pellets and large biomass briquettes:
Equipped with pelletizing mould
(Used to make pellets)
Equipped with briquetting mould
(Used to press briquettes)
Details:
Model
Output (kg/h)
Main Engine Size (mm)
Weight
(kg)
Total Power (kw)
Finished Fuel Rod's Diameter (mm)
GC-MBP-500
500
3200*1500*1500
4000
35
φ50
GC-MBP-1000
1000
3400*2000*1800
7000
61.5
φ70/φ30/φ22/φ10/φ8
Production of Moulds with Different Pore Size
Mould (Pore Size)
8mm
10mm
22mm
30mm
70mm
Hole Number
61
37
7
4
1
capacity (kg)


(Material is sawdust with moisture15%)

950 kg
900 kg
820 kg
880 kg
1200 kg
Photos of Finished Pellets / Briquettes
| | | |
| --- | --- | --- |
| | | |
| φ8mm Pellets / Sticks | φ10mm Pellets / Sticks | φ22mm Pellets / Sticks |
| | | |
| φ70mm Briquettes (Rice Husk Made Rod) | Cotton Straw Made Rod | Sawdust Made Rod |
| | | |
| Eucalyptus Skin Made Rod | | |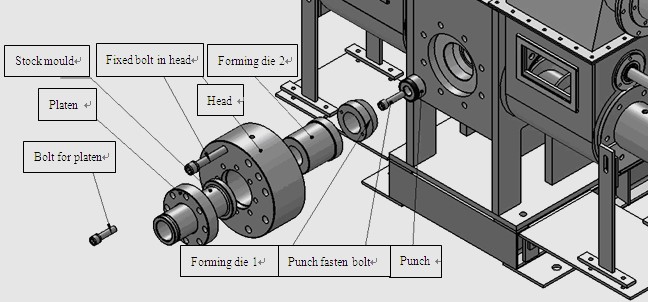 Features:
High degree of automation, easy to operate, reduce labor costs (automatic conveyor and automatic feeding are both available);
Low power consumption. You can use diesel engine if there is no available electric power.
The productivity of this mechanical stamping briquette maker machine can reach 1-1.2 ton/h ;
Good material compatible;

Various kinds of crop straw: cotton stalks, corn stalks, soybean straw, sorghum stalks, millet stalks, rice husks, peanut shells, etc.
Wood fiber materials: wood shavings, bagasse, pomace, pulp sludge, pasture, bark, bamboo shavings, sawdust, leather scraps, etc. All these above materials can be used to make fuel briquettes (fireplace fuel, boiler fuel, biomass power plant fuel, etc)
Electric heating function: automatic electric heating device, the humidity of the material is adjustable, no clogging problems.
Adopt high-speed, high-frequency stamping technique, the speed of the stamping reaches 300 times per minute. Ensure the stability of the molding.

Easy to operate;
Long lifespan: the main parts of the briquette maker are made from special steel and wear-resistant material.
Low price (high performance ratio and cost-effective). The price of this machine takes the carrying capacity of the most users into account, especially farmers.
Basic Process of Biomass Briquetting:
Raw Material (moisture content below 10%) → Crushing → Feeding to fuel briquette maker (converter technique) → Briquetting or Molding → Packaging → Storage
For now, there are two main kinds of briquette maker machine: Abrasive disc extrusion briquette press and mechanical stamping briquette maker. Abrasive disc extrusion type can generally be divided into three kinds: Ring die design, flat plate design, and ring & flat die design. The diameter of briquettes produced by abrasive disc extrusion briquette maker is 30mm * 30mm, while the diameter of mechanical stamping briquette maker can reach 80mm.
Moreover, the shape of mechanical stamping briquettes is diverse, round, square, hexagonal, perforated and other customized shapes. AGICO GROUP is a professional fuel briquette machine manufacturer supplying wood shavings briquette maker, biomass crusher, drier machine, etc. Contact us if you want further information on our machines or our company.
Environmental Parameters of Final Briquettes:
Density: 1.1-1.3g/cm ³;
Fuel value: 3,700 kcal~5000 kcal;
Sulfur dioxide emissions: 0.38% (lower than the national standard 1-3%);
Carbon dioxide emissions: 0.22% (far below the national standard);
Residue on ignition (ash): 3.6%;
Eco-friendly & recyclable: can be recycled as agricultural potash fertilizer.



High-Performance Hydraulic Propelling Device