GC-QL-I Dryer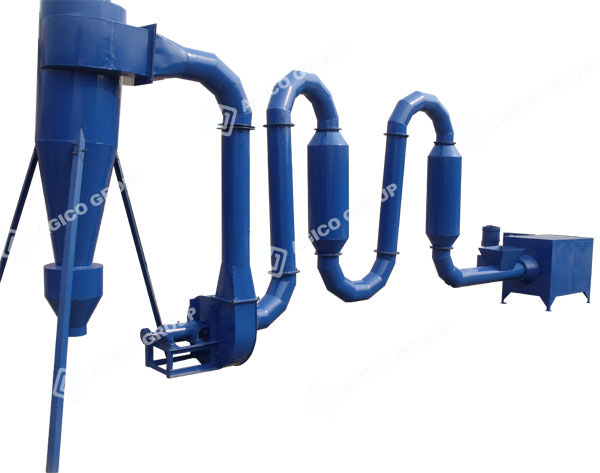 Dryer Model GC-QL-I for Lower Moisture Content 12-25%
Model
GC-QL-I-4
GC-QL-I-7.5
GC-QL-I-11
Capacity(Kg/hour)
200-250KG
500-700KG
800-900KG
Size of Input Material
(Diameter)
< 3mm & < 5mm
< 3mm & < 5mm
< 3mm & < 5mm
Temperature of Hot Air
180°C~250°C
180°C~250°C
180°C~250°C
Consumption of Wood Waste
15-20 kg/h
30-35kg/h
30-35kg/h
Power
(Centrifugal Fan)
4kw
7.5kw/11kw+1.5kw
11kw+1.5kw+0.75kw
Net/Gross Weight
700/800kg
1800/1900kg
2110/2280kg
Dimension(m)
6×2×3.65m
11×2×3.65m
11×2×3.65m
Working Principles:
GC-QL-I dryer machine consists of heat producer (hot air boiler), induced draft fan, coiled pipe and unloader. It is a new energy-efficient dryer machine, adopting double-drum, double pipe connections, suitable for drying straw, sawdust, rice husks, peanut shells, etc. The dryer uses homemade combustible gas as heating source. By the induced draft fan, the biomass materials could be sent into the coiled pipe. The materials can be well mixed with hot air. Then the moisture will be taken so that to achieve drying purposes.
Features:
Adopting hot air jet self-priming device makes the material suction automatically. Due to the high flow rate of hot air, the materials get fully mix with the hot air which better and consistent drying effect. This type of dryer machine not only reduces the labor intensity, but also reduces the cost of drying and boosts the profits of your briquetting business if you use is for an integrated biomass briquetting plant.
Based on hot air drying system, GC-QL-I dryer machine need less power, has lower energy consumption and can dry faster. The dry yield depends on original moisture content of the biomass materials.
Applications:
It is suitable for drying biomass materials with moisture content less than 20-25% and the moisture reducing rate can reach 8-12%. It is a good choice for biomass briquetting plant since the raw materials is required to be dried before feeding into a briquette press. For the materials with moisture content higher than 25%, it is necessary to dry the materials for two or three times to achieve the required moisture content (around 10%).
Want to set up your own biomass briquetting plant? Wish to buy high efficient and cost-effective crusher, dryer and briquette presses? Since you come to this page, congratulate for finding the best briquetting equipment supplier through the internet. There are many people who plan to buy a used briquette press to reduce the budget. However the most cost-effective way is purchasing a new briquette press with great quality and good after service. And your costs on the press machine will final back in the long run.



High-Performance Hydraulic Propelling Device