Rotary Drum Dryer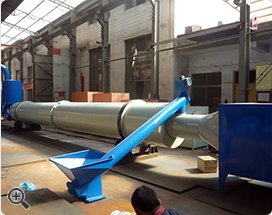 Rotary Drum Type Flash Drier Machine for Moisture of 20-65%
| | |
| --- | --- |
| Model | GC-MXΦ0.6×5 |
| Output Capacity(Kg/hour) | 800-1000KG |
| Size of Input Material(Diameter) | < 3mm & < 5mm |
| Temperature of Hot Air | 180°C~250°C |
| Moisture of raw material | 40%~70% |
| Consumption of Wood Waste | 20-30 kg/h |
| Power | 7.5 kw |
| Size of rotary | Diameter 630mm *L 5200mm |
| Net/Gross Weight | 2500/2600 kg |
| Installation Dimension(m) | 14*1.2*4.2 m |
| Loading in container | 1* 20'GP |
Working Principles
This rotary drum type flash drier machine is generally composed of raw material feeding plate, rotary body, driving devices and supporting equipment. The materials are fed into the rotary cylinder from the feeding plate. During the drying process, the raw material is being scattered and the moisture in raw materials is evaporated to the air and discharged in to the air finally.
Features:
Highly mechanized, high production and can run continuously.
Reasonable structure design (low resistance to flow through the pipe), easy to operate.
Low maintenance costs, low power consumption.
Wide application field, the final products are well-proportioned.
High thermal efficiency (generally up to 80% -90%).
Make the most of stability of the roller and uniformity of the airflow. Combine the drum with the pipeline effectively. Because of this, the drying intensity is increased and the labor intensity is reduced.
Application Fields
This dryer machine is manufactured for drying materials with moisture content 20-65%. It is featured with low energy consumption and high efficiency and it can reduce the moisture content of the raw material by 8-12%. Rotary Drum dryer can be applied to dry various biomass materials such as milled corn stalks, wheat straw, sawdust, rice husks, soybean straw, cotton stalks, sorghum stalks, ginkgo leaves and mulberry leaves, etc.
Rotary Drum dryer is generally applied to rice husk briquetting, integrate briquette plant and agricultural engineering industries. It is ideal auxiliary for large-scale rice husk briquette machine and biomass briquette plant.
Want to buy a rice husk briquette machine or auxiliary equipments for your biomass briquette plant? AGICO GROUP can be your smart choice. We can offer free consultation on biomass briquetting and all-around after service to our customers. Send us an email if you have any questions or want further information about our company.



High-Performance Hydraulic Propelling Device