Mechanical Stamping Biomass Briquetting Plant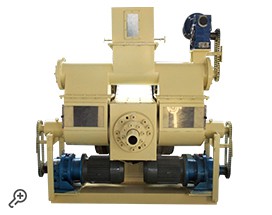 Mechanical Stamping Briquette Machine(Screw Conveyor)

AGICO GROUP-professional briquette maker machine manufacturer, supply wood shavings briquette maker and o...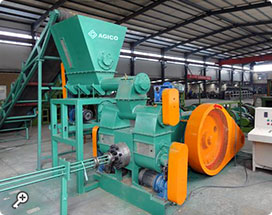 Mechanical Stamping Briquette Machine(Belt Conveyor)

AGICO GROUP supplies both large industrial briquetting machines and small briquetting presses. Interested...
Total 1 Page2 Records
Mechanical stamping briquetting plant is the equipment which can turn biomass wastes into high quality fuel briquettes, sawdust, crop straw, barks, wood chips and twigs for example. As the price of traditional fuel (such as oil) keeps rising fuel briquettes and fuel briquetting machine get the favor of more and more customers. Now, fuel briquette production is seen as one of the most promising industries – environmental friendly, cost-effective, high fuel value, abundant raw materials and broad market prospect.

An integrated Biomass Fuel Briquetting Plant consists of crusher, dryer, briquettes press, conveyor and packing machine.
Advantages of AGICO Biomass Fuel Briquetting Machine
Long Lifespan, High Strength, Good Wearability And Toughness


The core parts of AGICO briquetting machine have been gone through heat treatment. The spindle is made from No#45 steel forging under thermal refining and machining operation to mould. Moreover, the surface is plated with Cr. And our briquetting machines adopt secondary compression technology which includes piston stamping and screw feeder pre-pressing. Due so, our machines possess high strength, good wearability and toughness and the lifespan is largely expanded (the lifespan of the punch can be 1000 tons and that of die can be 300-500 tons).

Can Process Various Biomass Materials


Through repeated tests, we take the characteristics of different materials into account. This fuel briquetting plant can process various biomass materials. And you can choose a series of dies to produce briquettes with different size. After briquetting, it costs less on storage and transportation. Besides, our fuel briquettes press is equipped with variable frequency motor or speed regulating motor, so that it is possible to regulate feeding rate when processing different materials.



Reasonable Structural Design, High Tech and Improved Briquetting System


The rack section uses high strength steel plates as material and the welding is based on advanced welding technology. The adopted bearing is imported from Germany and there is independent lubrication system to ensure the cooling & lubrication during the briquetting. Our fuel brieuttting machine is designed with reasonable rib plate structure and the bearings are imported Germany products.



Low Power Consumption, High Production Efficiency

(consume 40 KWH when produce per ton of biomass briquettes)
Want to build your own fuel briquetting plant? Or plan to purchase a biomass fuel briquetting machine? AGICO GROUP – a reliable Chinese briquette equipment manufacturer may be your best choice. Buy from us, you can enjoy all-around after service and free consultancy service. Don't hesitate to contact us if you want further information!


High-Performance Hydraulic Propelling Device