GC-FSC-D Hammer Mill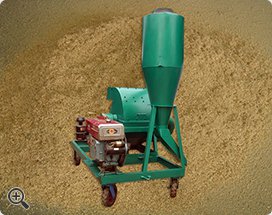 Model GC-FSC-D
Hammer mill with Diesel Engine
(for wood chip / tree trimmings/ wheat straw / plant stalk etc)
Capacity (kg/h)
500-700
Moisture of Feeding Material
Moisture max 20- 25%
Size of Feeding Material
Max. diameter 30mm
Max. length 300mm for wood materials
Final Size After Milling
Ø5×5mm
Diesel Engine
22 HP
Details:
Applications:
GC-FSC-D wood hammer mill can be used for crushing wood chip, tree trimmings, wheat straw, plant stalk, corn straw and other materials with diameter less than 50 mm. The grind fineness of finished products can reach 3~5 mm.
Features:
The blade is made from high-carbon alloy steel;
Adopt high-speed strong wind suction grinding system. It can offer you ideal hammer mill plans with durability and stable performance;
Multifunction hammer mill machine; It is equipped with dust suction device. No powder pollution, low temperature, low noise when crushing.
With advanced design, reasonable structure GC-FSC-D Hammer Mills have many advantages covering reliable performance, low power consumption and high production efficiency, can crush various materials (corn, rice husk, etc).
Small in size, easy to operate and maintain;
Working Principle
GC-FSC-D wood hammer mill consists of feeding board, crushing chamber, the delivery device and other components. There is a rotor in the crushing chamber. The rotor is made up of rotor disc and moving hammer. Rotor, sieve and toothed plate are the core components of hammer mill. In the crushing process, the biomass raw materials are fed into the chamber of the mill from the feeding board. With repeated impact of high-speed rotating hammer and repeated friction and collision on the tooth board, gradually, the raw materials will be crushed until they are small enough to leak through the sieve. The dropped powder will be transformed to a storage bin by conveying fan. In the storage bin, the materials will be further separated. The powder is discharged from the bottom of bin while the air is discharged from the top.

AGICO GROUP is a briquette equipment supplier in China, specialized in manufacturing biomass briquette machines and briquetting plant auxiliary equipments such as wood hammer mill, dryer machine, and packing machine. Look for biomass briquette machine for sale? Wand good hammer mill plans for your briquetting plant? Contact us now and you can get the professional answers in one business day.



High-Performance Hydraulic Propelling Device