GCBC-I Briquette Machine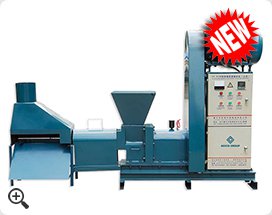 Details:
| | |
| --- | --- |
| Model | GCBC- I |
| Output capacity kg/h | 180-210 |
| Motor Power (kw) | 15 |
| Electric heater (kw) | 2.2kw*2 |
| Life of the inner former | 1-2years |
| Size of briquettes | Dia.50mm*L.480mm |
| Size of inside hole | Dia.16mm |
| Density of briquettes | 1.3 g/cm3 |
| Weight(kg) | 700kg |
| Overall dimension(mm) | 2700*600*1600 mm |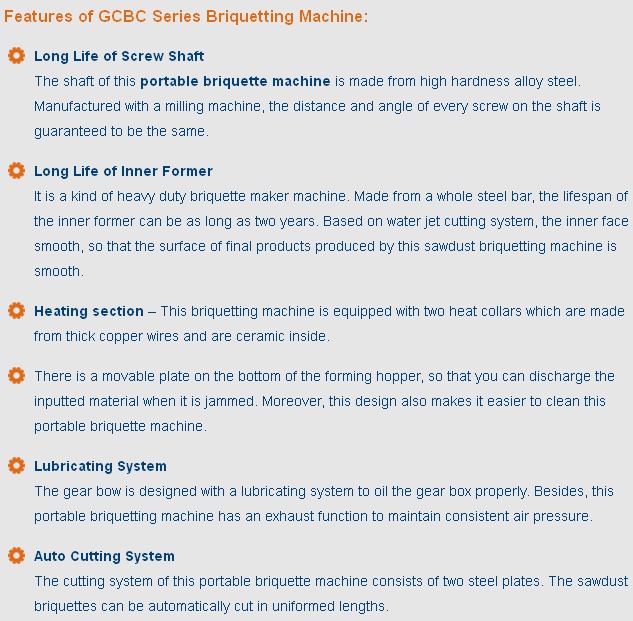 GCBC Series wood briquette maker is high-end briquetting machine with elegant appearance and advanced structure. No needs of changing Inner Former until input capacity exceed 1000 tons.
The Basic Process of Making Wood Charcoal Stick
Material Preparation
To make high quality wood charcoal sticks, good wood briquettes are needed. Besides, the quality of wood briquette maker, material preparation (straw for example) is also one of the most important factors that affecting the quality of briquettes (the particle size smaller than 1cm and moisture content less than 10%).
Briquetting
Briquetting equipment - briquette maker. There are a wide range of wood briquette maker and straw briquette machines for sale on the market. You should choose the right type of machine depending on your raw materials. The briquette maker machine is equipped with a sleeve heating coil. The temperature of the heating coil is adjustable and the maximum temperature is 350 ℃. To produce straw briquettes or wood briquettes with smooth surface (no cracks) and high density, you should choose the optimal molding temperature according to the type of raw materials that you prepared.
Charring
The basic process of low-temperature carbonization can be divided into three temperature stages: Drying stage, Charring the initial stage, Full carbonization stage.
If you have any questions on wood briquette makers or want to know more about straw briquette machines, you are welcome to contact us! Or you can view our website to get more information on our wood briquette machine for sale.



High-Performance Hydraulic Propelling Device