Twin Boiler Dryer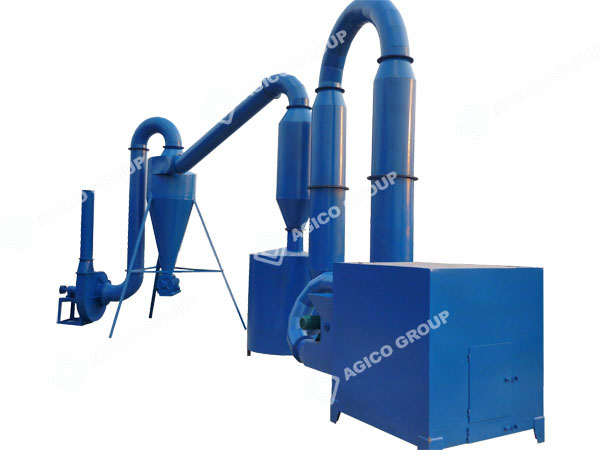 Twin Boiler Dryer Model GC-QL-II for Higher Moisture Content 20-50%
Model
GC-QL-II-7.5
GC-QL-II-11
GC-QL-II-15
Capacity(Kg/hour)
400-500KG
500-700KG
900-1000KG
Size of Input Material
(Diameter)
< 3mm & < 5mm
< 3mm & < 5mm
< 3mm & < 5mm
Temperature of Hot Air
180°C~250°C
180°C~250°C
180°C~250°C
Consumption of Wood Waste
60kg/h
100kg/h
150kg/h
Moister content max %
20-50%
20-50%
20-50%
Moisture of material after drying
8-12%
8-12%
8-12%
Power
(Air Fan+Air Lock+
speed adjustable feed motor)
7.5kw+0.75kw
+0.75kw
11kw+0.75kw
+0.75kw
15kw+0.75kw+0.75kw
Net/Gross Weight
2040/2260kg
2850/3080kg
2850/3080kg
Overall dimension(L*W*H)
9m*2.4m*4m
9m*3.2m*4m
9.5m*3.8m*4.5m
Packing size
11 M3(3 cases)
14 M3(3 cases)
18 M3(3 cases)
Features:
(Compared with other dryers, GC-QL-II biomass airflow dryer machine has the following advantages)
Airflow Dryers Possess Higher Dry Strength, High Thermal Efficiency
Since the hot air is flow in a high speed, the material can be well dispersed. In this way, the drying effective area could be greatly expanded. Moreover, due to the dispersion and agitation all through the process, the drying effective area is constantly updated.
Materials Get No Harm In The Process
The contact time of hot air and biomass materials (sawdust for example) is very short. The drying time is generally 0.5~5 seconds. In whole drying process, there is no harm to heat-sensitive or low-melting materials (no overheating or decomposition problems). So using this dryer as auxiliary of sawdust briquette maker is a good choice.
A Variety Of Hot Air Sources Is Available
The hot air sources could be fuel furnace, gas furnace, coal-fired hot air furnace and steam heat exchanger, etc.
Broad application fields, high output, low investment and low maintenance costs.
Appliction:
This is a new type of biomass dryer which is designed with two hot air boilers – an ideal auxiliary for sawdust briquette maker. It is capable for process materials with moisture content between 20% and 50% and the final moisture content can reach 8%-12%. Notes:
If the raw material contains moisture content of 20-35%, one boiler is enough.
All the briquette equipments (including crusher, dryer, briquette maker and packing machine) for sale on biomass-briquette.com are specially designed for processing biomass materials. As one of the top suppliers in China, we promise you high quality and all-around after service. Contact us now for further information on biomass briquette makers or other equipments you interested in.



High-Performance Hydraulic Propelling Device