GCBA-I Briquette Machine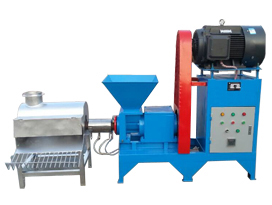 Details: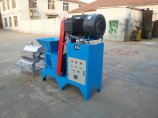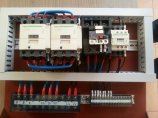 GCBA Series Biomass Briquetting Press
| | |
| --- | --- |
| Model | GCBA-I |
| Output capacity kg/h | 180-210 kg/h |
| Motor Power (kw) | 15kw |
| Electric heater (kw) | 6kw |
| Size of briquettes | Dia.50mm |
| Size of inside hole | Dia.16mm |
| Density of briquettes | 1.3 g/cm3 |
| Weight(kg) | 585kg |
| Warranty | 12 Months |
| Overall dimension(mm) | 1700*750*1280 mm |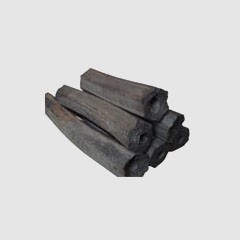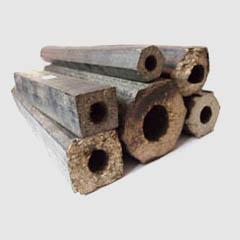 This is a kind of screw briquetting press and it can be used to produce hexagonal or quadrangular cylinder. There is a hole (15-20mm) throughout the finished biomass briquettes. Since they can be stacked, compared with wood chips, wood briquettes are more convenient to store. The reason why briquettes are more efficient when burning is that the central hole and outer layer are carbonized during the briquetting process. GCBA series briquetting press is designed with automatic temperature control system which makes it a good choice for pressing hard wood materials such as rich husk and sawdust. The appropriate electric motor of this briquetting press is 1kw/15kw/18.5kw/22kw-3phase-380v-50hz.
The Five Conditions of the Investing Biomass Briquetting Equipment
Before investing briquetting and purchasing wood chip briquetting press, there are five essential conditions you should get prepared.
Sufficient Biomass Raw Materials
Sawdust, rice husks, seed shells, walnut shell, twigs, bark, sediment, vinegar residue, furfural residue, wood chips and various crop stalks are all appropriate materials for briquetting production. Two requirements for raw materials: One is size requirement (particle size less than 1cm) and the other is moisture content requirement (below 12%).
Appropriate Workshop
The size of the workshop is suggested to be larger than 50 square meters and the height cannot be less than 4m. Besides, ensure the workshop can supply three-phase current.
Required Ancillary Equipment
If the raw material is not in particles, four kinds of ancillary equipment are needed: crusher machine, dryer machine, briquetting press and packing machine If the raw material is less than 1cm particles, three kinds of ancillary equipment are required: biomass briquetting press, dryer, packing machine. Buy a carbonization furnace if you want to make charcoal.
Biomass Briquetting Plans
You should make a feasible biomass briquetting plans depending on your specific situation and needs in advance. The devices are not working individually. The whole briquetting process runs as a production line. So a beforehand plan is needed to make your business efficient. Here is an example: one Pipeline type dryer is affordable for two briquetting presses. A 900 * 10000mm tumble dryer can bear five briquetting presses.
Technical Support
Experience and technical support is crucial for a profitable briquetting business. Buying from biomass-briquette.com (a reliable briquette machine manufacturer & supplier) and we will offer technical guidance on factory setting up, briquetting process and tracking service to ensure your business go into operation.
If are interested in biomass briquetting press or want to know more about wood chip briquetting press, contact us right now! You are welcome to send us an email and our sales teams are ready to answer your questions.



High-Performance Hydraulic Propelling Device