Mechanical Stamping Briquette Machine(Belt Conveyor)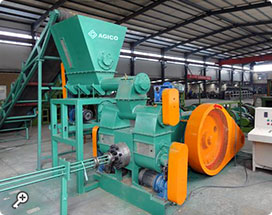 Details:
Model
Output (kg/h)
Main Engine Size (mm)
Weight
(kg)
Total Power (kw)
Finished Fuel Rod's Diameter (mm)
GC-MBP-500
500
3200*1500*1500
4500
35
φ50
GC-MBP-1000
1000
3400*2000*1800
7000
61.5
φ70/φ30/φ22/φ10/φ8
This machine can make both biomass pellets and large biomass briquettes:
Equipped with pelletizing mould
(Used to make pellets)
Equipped with briquetting mould
(Used to press briquettes)
Production of Moulds with Different Pore Size
Mould (Pore Size)
8mm
10mm
22mm
30mm
70mm
Hole Number
61
37
7
4
1
capacity (kg)


(Material is sawdust with moisture15%)

950 kg
900 kg
820 kg
880 kg
1200 kg
Photos of Finished Pellets / Briquettes
| | | |
| --- | --- | --- |
| | | |
| φ8mm Pellets / Sticks | φ10mm Pellets / Sticks | φ22mm Pellets / Sticks |
| | | |
| φ70mm Briquettes (Rice Husk Made Rod) | Cotton Straw Made Rod | Eucalyptus Skin Made Rod |
| | | |
| Sawdust Made Rod | | |
Features:
This large briquette machine not only can produce biomass briquettes but also can press biomass pellets.
The final pellets/briquettes of this type of briquette machine (briquetting press) have high density and high fuel value.
Adopt frequency conversion technology, making the speed of the feed adjustable. Largely reduce the energy consumption and the costs of briquetting production.
Linkage adopts cooling design, so that to keep a constant temperature when linkage is running in a high speed. By this way, you no longer have to worry about overheating due to friction and slider Hugging phenomenon.
Automatic scraper system design, largely improved the efficiency and productivity. So it is a good choice as large scale industrial briquetting machinery.

Application Fields:
Suitable for various biomass materials including sawdust, straw, wheat straw, corn stalks, soybean straw, leaves, roughage and cotton stalks, shrubs, rice straw, rice husk, peanut shells, mushroom residue, dregs and other crops, or economic crops, forest products residues.

AGICO GROUP supplies both small briquetting presses for home use and large briquette machines for industrial production. Interested in purchasing large briquette machines? Contact us now! Our professional sales team is here to offer more details.



High-Performance Hydraulic Propelling Device