GCBA-II Briquette Machine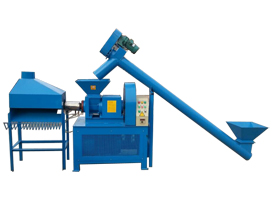 | | |
| --- | --- |
| Model | GCBA-II |
| Output kg/h | 300~350 kg/h |
| Motor Power (kw) | 22 kW |
| Electric heater (kw) | 9 kw |
| Size of briquettes | Dia.70mm |
| Size of inside hole | Dia.20mm |
| Density of briquettes | 1.3 g/cm3 |
| Weight(kg) | 1300 kg |
| Overall dimension(mm) | 1960*880*1620 mm |
| Warranty | 12 Months |

Application Field:
Briquette making machine is a kind of energy recycling equipment which is also named biomass charcoal machine, used to make pollution-free fuel briquettes from various biomass materials (sawdust, straw, rice husk, etc). During the molding process, the surface of briquettes is carbonized through high temperature and high pressure. So briquettes have higher combustion heat compared to burning wood chips directly.
The finished biomass briquettes can be round, square or polygon (the cross section diameter of can be 50~80mm). With a coking furnace, these briquettes can be carbonized to charcoal briquettes.
The main products of AGICO GROUP: wood waste briquette making machine, energy saving briquette making plant, wood crusher, hammer mill, airflow dryer and packaging machine.
AGICO biomass briquette making machines are developed with high technology, high efficient, low energy consumption and stable performance. Starting with the consumer needs and the point of recycling waste material, based on economy and practice, we can offer you customized briquetting plans which can guide you to a quick route to riches.
AGICO GROUP is a manufacturer of briquette equipment, setting designing, development, manufacturing, sales and after-sales service in one. We possess advanced technology, excellent testing equipment and technical guidance. We adhere to the quality development, in good faith to win customer business purposes, and all the friends sincere cooperation, create brilliant. Our aim is to offer the best machine and first-class service as always.
Briquette Making Machine – Turning Wood Wastes into Wealth
Resource exhaustion and environmental degradation is a worldwide issue that we are facing with. The pollution damage to global environment is growing. The only way to alleviate environmental crisis is getting rid of dependence on fossil fuels as soon as possible. It is time to pay more attention to biomass fuel - renewable energy resources. Let's start to turn cheap biomass materials, economic crops or wood wastes into treasures.

This equipment can turn sawdust, waste wood, branches, rice husks, bamboo shavings, peanut skin, sunflower seed shells, corn cobs, coconut shells, coffee grounds, and the crops straw into useful and quality fuel. Briquettes are efficient, non-toxic and clean. Get a broad market and broad prospects. It is ideal investment project for individual families and laid-off worker.



High-Performance Hydraulic Propelling Device