GCBC-II Briquette Machine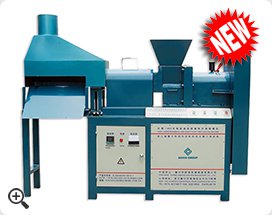 Details:
| | |
| --- | --- |
| Model | GCBC-II |
| Output capacity kg/h | 300-350 |
| Motor Power (kw) | 18.5kw |
| Electric heater (kw) | 2.2kw×2 |
| Life of the inner former | 1-2years |
| Size of briquettes | Dia.60mm*L.500mm |
| Size of inside hole | Dia.16mm |
| Density of briquettes | 1.3 g/cm3 |
| Weight(kg) | 1000kg |
| Overall dimension(mm) | 2000*600*1700 mm |

Features of GCBC Series Briquetting Machine:
Long Life of Screw Shaft
The shaft of this portable briquette machine is made from high hardness alloy steel. Manufactured with a milling machine, the distance and angle of every screw on the shaft is guaranteed to be the same.
Long Life of Inner Former
It is a kind of heavy duty briquette maker machine. Made from a whole steel bar, the lifespan of the inner former can be as long as two years. Based on water jet cutting system, the inner face is smooth, so that the surface of final products produced by this sawdust briquetting machine is smooth.
Heating section – This briquetting machine is equipped with two heat collars which are made from thick copper wires and are ceramic inside.
There is a movable plate on the bottom of the forming hopper, so that you can discharge the inputted material when it is jammed. Moreover, this design also makes it easier to clean this portable briquette machine.
Lubricating System
The gear bow is designed with a lubricating system to oil the gear box properly. Besides, this portable briquetting machine has an exhaust function to maintain consistent air pressure.
Auto Cutting System
The cutting system of this portable briquette machine consists of two steel plates. The sawdust briquettes can be automatically cut in uniformed lengths.
This briquette machine can process a wide range of biomass materials, sawdust, straw, wood residues and agricultural wastes, etc. Plan to buy a sawdust briquetting machine? This heavy dusty briquette maker is ideal for industrial briquetting line. It is portable and has high efficient and high productivity. AGICO GROUP is a reliable briquetting equipment manufacturer & supplier in China. View our website (biomass-briquette.com) to know more about our machines for sale, or you are welcome to contact us!



High-Performance Hydraulic Propelling Device