GC-FSC Hammer Mill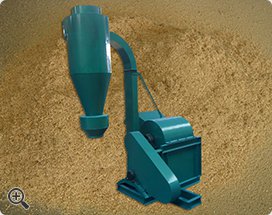 Details
Model GC-FSC
Hammer mill with Electric Motor
(for wood chip / tree trimmings/ wheat straw / plant stalk etc)
Capacity (kg/h)
500-700
Moisture of Feeding Material
Moisture max 20- 25%
Size of Feeding Material
Max. diameter 30mm
Max. length 300mm for wood materials
Final Size After Milling
Ø5×5mm
Gross/Net Weight
750/800kg
Motor
18.5kw
Overall Dimension (mm)
1700*1150*1200
Cyclone (2400*800*800)
Applications of Hammer Mill Machine:
GC-FSC hammer mill machine (hammer mill grinder) is widely used for grinding tree trimmings, wood chip, wheat straw, corn straw, plant stalk and other materials with diameter less than 50 mm. The grind fineness of final products can reach 3~5 mm.

Wearing Parts: Blade, sieve.
Maintenance:
Grease the bearings once a month. Grease twice and pay more attention to inspection if the grinder machine works continuously. After using period of time, re-adjust the tightness of the central belt with your fingers, press down 6-10mm is appropriate. It is better to clean the hammer mill machine every day after work to extend the service life. Check whether the parts are loose. For the details, there is maintenance manual for your reference.
Note:
The size of the finished particles depends on the material character and screen mesh dimension. Such hammer mills are provided with multiple sieves so that you can choose different sizes according to your needs.
Crushing rotor is a high-speed rotating component. Ensure the stability and fastness of the rotor, hammer and other parts.
Prevent the metal, stones and other hard objects into machine since it can cause damage or accident.
The hammer is one of wearing parts, so it needs regular inspection. Flip or turn around the hammer when the corners of the hammer wear to no longer angular. But the installation location cannot change so that to keep the balance of the rotor.
For longer or larger materials, they would first be divided into small pieces or small pieces.
Being a professional briquette machine manufacturer, we can offer a wide range of briquette equipments covering briquetting plant auxiliary equipments such as hammer mill machine/grinder, dryer and packing machine. If you are interested in our machines, send us an email and our sales team will respond you in one day.



High-Performance Hydraulic Propelling Device